During the lockdown, walk-ins are limited to one customer at a time. So, to serve you faster, SAME DAY order pick-up is available for our best-sellers.
For same-day pick-up, call us at 905-858-3490 between 10:00 am and noon to place your order and schedule your pick-up time.
For large quantities or to ensure getting your personal favourites, we ask that you call at least 24 hours in advance of your desired pick-up date/time or that you place your order through our online shop. As usual, please use our cake quote request form for your custom cakes and our school/corporate/event quote form for large quantity orders.
FIND THE RIGHT CAKE SIZE & LEARN ABOUT TIERS
CAKE SHAPES, SIZES & SERVINGS
Not sure how big your cake should be to be sure everyone gets their share? Not sure what shape you want or what a "tiered-cake" actually means?
Don't worry!  We've got your back.  Answers to all your cake questions are shown for you in the diagrams below.
Afterwards, use our handy cake quote order form to get us baking your cake for you...
Traditional Cake Shapes, Sizes & Servings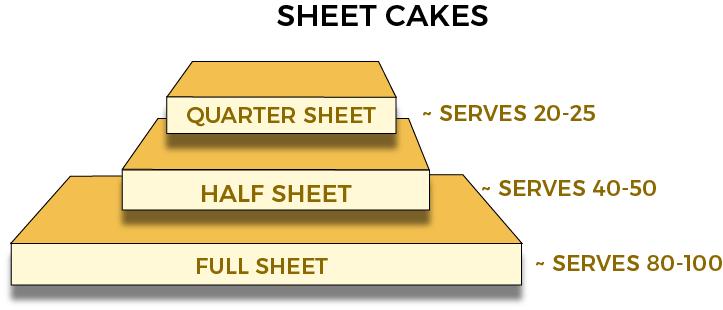 SCULPTED & CUSTOM SHAPED CAKES ARE CREATED FROM THESE BASE SHAPES. (SERVINGS WILL VARY)
What Exactly is a "Tiered Cake"?
What's a "Cake Tier"?
A  cake tier is actually what we'd think of as a single cake. 
A cake - or cake tier - is traditionally made up of two layers of cake stacked on top of each other with a filling in between (as shown in the drawings). 
The stacked and filled layers are then frosted and the finished tier looks like a single cake. Cake frostings are usually buttercream but can also be whipped creams or ganaches. Cake fillings are usually pudding, creams, custards, or jams or the same frosting as was used on the outside of the cake..
The photo is an example of a "single cake tier."  It's also what people usually mean when they think of a "cake."
Tiered Cakes are Stacked Cakes
Tiered cakes are simple one or more cakes stacked on top of each other.  These are great for celebrations where you need to serve a lot of people.  They are usually covered in "fondant" (a thick, smooth sugar paste) and elaborately decorated. 
Not only do tiered cakes make it easy to serve a lot of people, but you can also have fun combining different shapes and flavours for your cake, filling, and frostings!
Same Sized Tiers
This cake uses two tiers of the same size.  Covered in fondant paste, it disguises the fact that it's two tiers to create the effect of a super tall cake. 
The smooth cake is decorated with fondant baby clothes on a clothesline and is topped with a fondant sculpted rabbit sitting on a pedestal.  The effect is a fun yet elegant cake perfect for a baby shower.
Different Tier Sizes
This cake, created for a silver wedding anniversary, has two different sized tiers and features different frosting techniques on each tier.
While both tiers are rounds, the larger bottom tier features a swirled buttercream trimmed with silver dragee balls. 
The visual texture of this first tier is contrasted with the smooth buttercream on the second tier which is trimmed with triplets of silver dragees and crowned with buttercream pearls. It's a gorgeous way to celebrate 25 years of marriage.
Different Tier Sizes & Shapes
This cake shows imagination, mixing shapes, sizes and decoration techniques to make a beautiful statement.
A rectangle bottom tier is covered in fondant made to look like a tufted pillow while the second, square shaped tier is decorated with fondant stripes. The top, round-shaped tier sports embossed fondant for a lace effect and is finished with a big white and gold fondant bow.
The high-heeled white shoe, flowers and pearls all made with fondant give the cake a whimsical look.